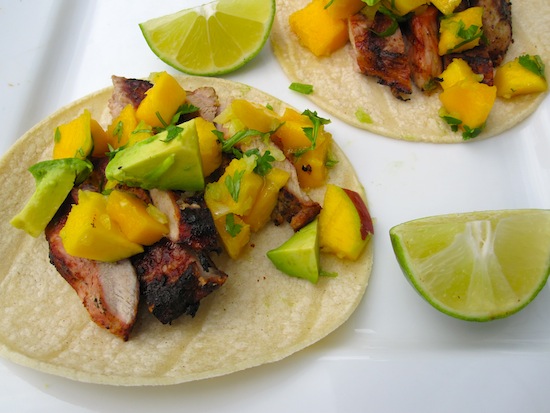 These chicken tacos are the BOMB. So incredibly yummy and a neat spin on an old favourite. The mango-avocado salsa only takes a couple of minutes to make up and gives the tacos such a spunky flavour. You'll want to make sure that the avocado and mango that you are using are nicely ripened or else the flavours won't be as good. Don't forget fresh cilantro! Bon appetit!
Ingredients:
8 oz (227 g) chicken
1/4 tsp (1 mL) ground allspice
1 pinch salt
1 pinch pepper
1 tbsp (15 mL) vegetable oil
8 soft corn tortillas
Mango Salsa:
1/2 cup (125 mL) diced pitted peeled mango
1 avocado, pitted, peeled and diced
1/3 cup (75 mL) finely chopped red onion
1 tsp (5 mL) grated lime zest
2 tsp (10 mL) lime juice
1 pinch salt
1 pinch pepper
Yogurt Sauce:
1/2 cup (125 mL) Greek-style yogurt
1 tbsp (15 mL) lime juice
Directions:
Sprinkle chicken with allspice, salt and pepper.
In nonstick skillet, heat oil over medium heat; cook chicken, turning once, until golden. Chop.
Mango Salsa: Meanwhile, combine mango, avocado, onion, lime zest, lime juice, salt and pepper; set aside.
Yogurt Sauce: Combine yogurt with lime juice; set aside.
Heat tortillas according to package directions. Divide chicken among tortillas; top with mango salsa and yogurt sauce.
Recipe cred to Canadian Living Magazine: May 2013